By Jef UK
Available now from MonkeyBrain Comics, Panels For Primates features work from comics giants such as Stan Lee, Roger Stern, and John Byrne, alongside modern masters Mike Carey, Jamie Delano, Stuart Moore, Fred Van Lente, Colleen Coover, Jeff Lemire, Dean Haspiel, Simon Fraser, Molly Crabapple, and many, many more. And all for a great cause! Check out the full credits list and buy via Comixology HERE. Cover by Simon Roy!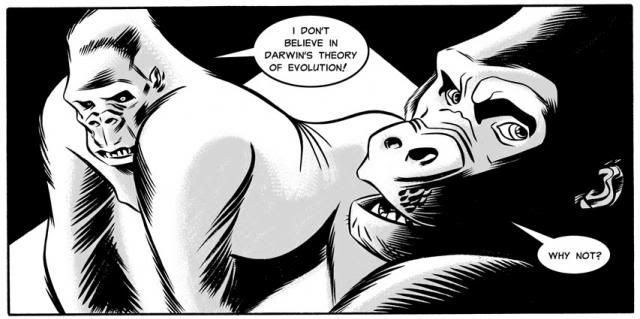 ["Even Gorillas Have Pride!" preview by Stan Lee and Dean Haspiel.]
From the publisher:
PANELS FOR PRIMATES is a charity anthology of primate-themed comics, prose, and illustration, with contributions from veteran creators and talented newcomers alike, assembled by Troy Wilson. Proceeds from this anthology go to benefit the Primate Rescue Center in Nicholasville, KY, a nationally respected sanctuary housing more than 50 primates, including 11 chimpanzees. The organization's work has been featured in the award-winning book Animal Underworld, by investigative journalist Alan Green and the Center for Public Integrity, in the magazine Animals' Agenda (now Animals and Society Institute), on television and in newspapers nationwide.
[Spot illustration detail by Richard Case]
One thing that's so great about Panels For Primates is how it combines comics and prose in single volumes, coupling the short stories with their own spot illustrations, which look amazing on your tablet. Anthologist Troy Wilson has done a wonderful job of curating a unique, entertaining book with an amazing agenda.
["Undercover Chimp" preview by Fred Van Lente and Colleen Coover.]
Also available is Panels For Primates Junior, featuring a cover by J. Bone! See the full contributor list and purchase HERE. Panels For Primates and Panels For Primates Junior are $9.99 and $8.99, respectively.
[Spot illustration detail by Aaron Florian.]