By Dennis Cahlo
"Wrecking Ball" is a song recorded by American recording artist Miley Cyrus for her fourth studio album, Bangerz (2013). It was released on August 25, 2013 by RCA Records as the second single from the album. The song was written and produced by Dr. Luke and Cirkut, with additional songwriting provided by MoZella, Stephan Moccio, and Sacha Skarbek.
Dennis Cahlo made it better.
DENNIS CAHLO & THE CHANGE perform live at Rock Shop in Park Slope, Brooklyn on Saturday, 11/23/13, featuring sci-fi rockers AMERICANS UK. Buy advance tickets HERE.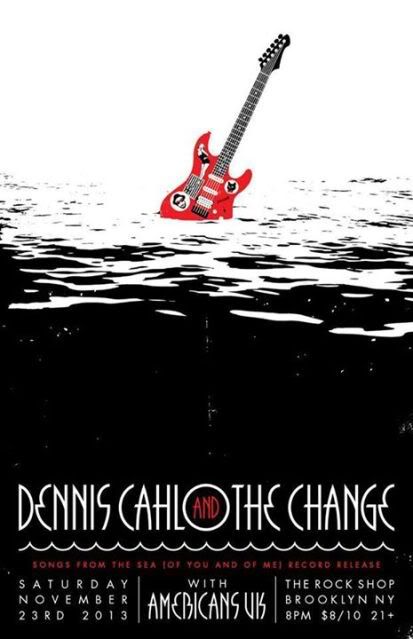 Download the song for free
HERE
.
lyrics
We clawed, we chained, our hearts in vain
We jumped, never asking why
We kissed, I fell under your spell
A love no one could denyDon't you ever say I just walked away
I will always want you
I can't live a lie, running for my life
I will always want youI came in like a wrecking ball
I never hit so hard in love
All I wanted was to break your walls
All you ever did was wreck me
Yeah, you, you wreck meI put you high up in the sky
And now, you're not coming down
It slowly turned, you let me burn
And now, we're ashes on the groundDon't you ever say I just walked away
I will always want you
I can't live a lie, running for my life
I will always want youI came in like a wrecking ball
I never hit so hard in love
All I wanted was to break your walls
All you ever did was wreck meI came in like a wrecking ball
Yeah, I just closed my eyes and swung
Left me crashing in a blazing fall
All you ever did was wreck me
Yeah, you, you wreck meI never meant to start a war
I just wanted you to let me in
And instead of using force
I guess I should've let you win
I never meant to start a war
I just wanted you to let me in
I guess I should've let you winDon't you ever say I just walked away
I will always want youI came in like a wrecking ball
I never hit so hard in love
All I wanted was to break your walls
All you ever did was wreck meI came in like a wrecking ball
Yeah, I just closed my eyes and swung
Left me crashing in a blazing fall
All you ever did was wreck me
Yeah, you, you wreck me
Yeah, you, you wreck me
credits
released 03 October 2013
Writer(s): Stephan Richard Moccio
Copyright: Songs Of Universal Inc., Sing Little Penguin
Wrecking Ball (1985) #dcandthechange
Performed by Dennis Cahlo
Directed by James P. Mignone