By Seth Kushner
Nathan Bond is using this Kickstarter to raise funds to produce and host an exhibition of his latest body of work – a series of large-scale oil-painted portraits entitled "In Their Own Words." The exhibition will take place here in New York City in mid September, 2013.
One of the main goals of this exhibition of paintings, outside of sharing the art work, is to explore a new way of having the audience connect with, and have access to, original art work. Finding different ways of sharing his creativity and love of painting is an ongoing endeavor of Nathan's. Since being a faculty member at Parsons School of Design for the past ten years, getting to share his experience and passion for painting through teaching has been a big part of fulfilling that goal.
One main challenge is that showing work in traditional gallery settings can be restricting. It changes the focus of what the show is about and can create a gap between the viewer and the art. This is mostly due to the high cost of running a gallery. High commission prices place a lot of pressure on the gallery to sell all the work, in turn, changing the intent of the art. Nathan has been trying to find a more balanced approach concerning viewing artwork for a long time.
Over the past year Nathan has been trying to tackle this challenge by making his original works of art more accessible through his Face Book page – Paint Bond. Through that page and subscribers to his email list, Nathan started to give away smaller drawings and paintings once a month completely for free. That extremely fulfilling experience inspired the idea for moving this exhibition of his new series "In Their Own Words" out of the gallery, and producing and hosting the show by himself. By funding the cost of putting on the show through Kickstarter, Nathan will be able to keep the price of the art at least 50% lower.
He also plans on giving away a lot of art during the exhibition, which is something that he would not be able to do in a more traditional setting. Nathan will also be selling the original paintings along with many less expensive smaller works that relate to the series and its development, such as sketches and prints. His hope is that this will allow for a wider range of people to own an original work of art. Nathan desires to create an environment that is not just about selling but more about seeing, feeling and sharing art. He hopes you will help him make that possible. If you can't make it – don't worry, the event will be filmed and posted online for everyone to see.
View Nathan Bond's Kickstarter campaign.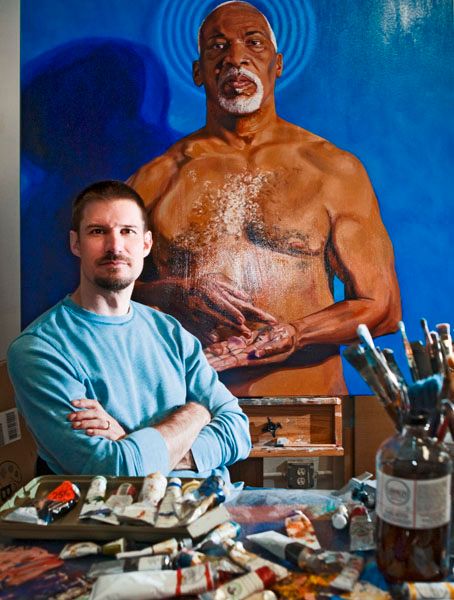 [Photo by Seth Kushner]
Nathan Bond was born in North Carolina in 1972. Moving often throughout his life, both nationally and internationally, has had a sustaining effect on his work as an artist. The amazingly rich diversity of the collective humanity has directed Nathan's painting to investigate the various ways that we view identity, both others and our own. After graduating from The Rhode Island School of Design in 1995, he finally settled in New York in the spring of 2001. After setting up his studio practice in Brooklyn, he accepted a teaching post at Parsons School of Design in 2002. Nathan has been teaching Drawing and Painting there since. He has found teaching to be the most fulfilling job he could imagine. Teaching and living in an international city like New York has fulfilled his need to encounter new people and ideas on a regular basis. Nathan's work has been exhibited internationally from London to Japan to Spain, and all over the United States from New York to Washington D.C. to Colorado. When he is not in his studio painting Nathan can be found at home playing with his beautiful and talented three-year old daughter, amazing wife and loyal dog. NathanBond.com