By Jef UK
W hat follows is an incomplete history of one John Mathias, aka Johnny Flagday, artist and musician extraordinaire.  Flagday is one of those guys who is so talented and charming, it makes you jealous.  Thank god he's on our side, you think.  Then you want to work with him.
As far as I'm concerned, Flagday was destined to rock with Americans UK.  First, he and his partner in crime, Dr. Cola, brought their art-college band, Team USA, from St. Louis to NYC.  Singer, song-writer, bassist, and poster-maker for the band, Flagday made the NYC scene with Team USA from '97 to 2003.
Check out Team USA's  song Listen to the Night and you can hear him wailing out in front of a rock band not too unlike AM/UK's early offerings on the I, Ape-Man EP, circa the same time period.
By the time I met him, Team USA was dead (long live UK!), and "Flagday" became "Mathias" again, playing bass, and making art, posters and t-shirts for the "metaphysical arts collective and rock band" Flaming Fire with such fine folks as Patrick Hambrecht and cartoonist Lauren Weinstein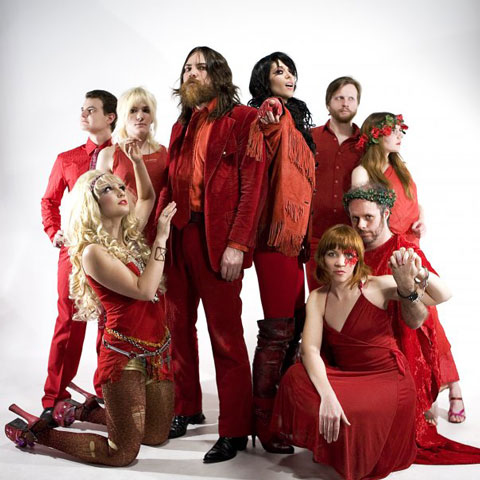 I somehow never made it to a Flaming Fire show.  I regret it greatly.  I was told about them a lot, but, what can I say, I'm busy and full of myself.  I think I would have loved them.  Ah well. 
(Here's an album cover Mathias made)

I had met and hung out with Mathias a few times previously, but the first time who-he-is kicked me in the teeth was at a house party at his place in the Slope, where, after walking through a hallway full of his paintings,  he and his jewelry-making wife, Ellie, strode confidently out to the den dressed as '80's excercise-video instuctors and began their performance peice MotoVation .
Despite all his amazing work in Team USA and Flaming Fire–well, I missed that shit–I didn't know how or even what he performed.  But seeing MotoVation, I knew this guy had what it takes to be AM/UK material.  A seed was planted.
Months after that (probably years after, who knows–fuck you, time), AM/UK released Rocktronic and Mathias' buddy Mike Reddy, aka Dr. Cola from Team USA, was playing bass in Americans UK.  When our guitarist then, John Szot of EZMACHINE, had to leave the band, Dr. Cola moved up in the ranks, and we got our first, real, tried-and-true bassist in AM/UK, after a long tradition of forcing guitarists' nimble fingers along fat strings.  When Mathias asked if he could use his old rock name for the band, Johnny Flagday was born again, and our brains made out in the practice room.
So we're rocking out, playing gigs, having a blast at practice (name any rock song and Flagday and Cola can perform it), and one day I show up at a live performance of comix hosted by R. Sikoryak's Carousel, and there's Flagday performing his comic, Cuniglius Cronk, with the aforementioned author and showman Patrick Hembrecht!  And Patrick knows Dean Haspiel, who at this time I was officially stalking and was also performing that night, and holy shit, worlds collide, Jerry.  Worlds collide.
(Page from Cuniglius Cronk by Patrick Hembrecht and John Mathias)
Of course, the next time we're in rehearsal together, I'm all, let's make a comic, guy.  A year later, we had this: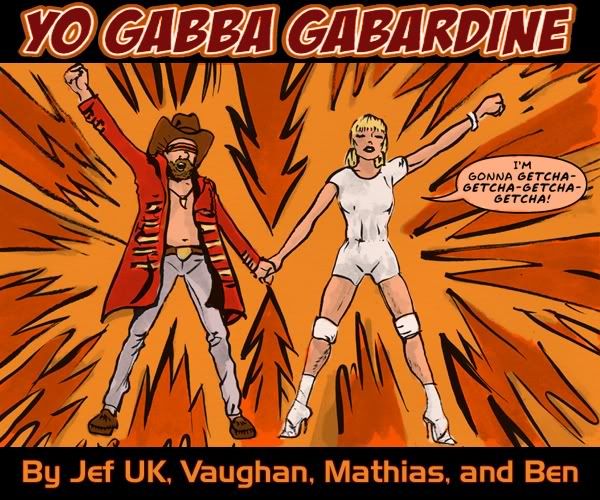 Mathias–ahem, I mean–Johnny Flagday and I, and we (AM/UK), have more work coming out together.  While he's not a full-time member of the live band anymore, he records with us a lot,  plays in our Luxuria sets and otherwise, and we made sure we got this LIVE ALBUM on the books before he had to peace out for a bit.  We have a song that we cowrote with Dr. Cola and the band titled "Stoop Sale/Make Me an Offer" that we will soon be releasing, and I just finished breakdowns for another comix/music mashup for John to draw or paint or both for our song, "Titans of Tyranny."  Oh yeah, and we've been dropping dope rhymes for various hip hop projects for Von Boiko.  So come back for more here on Trip City in 2012!
In sum, Johnny Flagday, né John Mathias, is an awesome, freaky-talented dude who likes to make rock n' roll and art and comix, all at the same time, which is exactly my kinda man, swooooon.
Please check out his music, art, illustrations, and more at www.JohnMathiasArt.com, and see for yourself!  He'll make your brain wet. (Don't be gross, Jef–he has a kid!!)
(Painting by John Mathias)